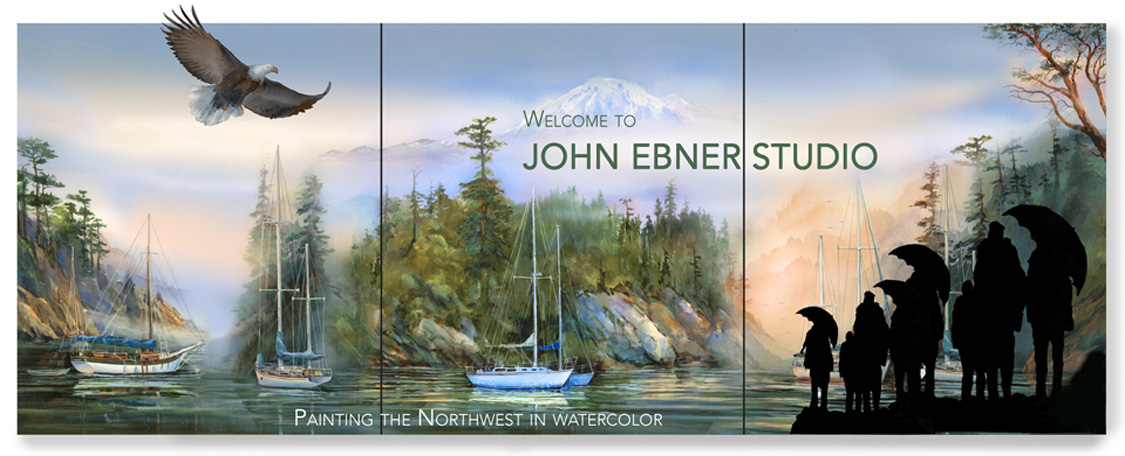 Open By Appointment call 425-308-9055
Giclee (Pronounced G-Clay)
( Scroll Down and Click an image for a larger view)
Giclee is a French word meaning "spraying of paint." The word is used to describe prints produced by a high definition inkjet printer.
The inks used in this process are tested and approved to last more than 100 years with no noticeable fading.
The paper is a heavier paper similar to watercolor paper, neutral ph so it won't yellow with age.
Most of Ebner giclee edition sizes are 190. This low edition size adds to the collectability and value.
All giclees are signed by the artist and include a certificate of authenticity.
All Giclees are available framed call for pricing
New Near Deception Pass

New Sailors Delight

New After Glow

New Low Tide

New Sailing the Salish Sea

New Northern Lights

New Mt Baker From Anacortes

New White River Valley

New Seattle Market Shoppers

New Orca Two

New Polnell Point

New Lavender Abbey

New After The Rain

Art Walk

Assisi Church

At Waters Edge

Autumn Majesty

Autumn at Mount Baker

Autumn Shadows

Barnum Point

Barnum Point inlet

Beach Pebbles

Beach Walkers

Beyond the Tide

Calla Lillies

Canadian Geese

Canna Leaves

Cannon Beach

China Peaks and Mist

China Pines

City Streets

Cliffs of Deception Pass

Crabbing Boats

Deception Pass Mist

Deception Pass Madrona

Driftwood & Mist

Enchanted Waters

Foss Tug

Friday Harbor Sunrise

Gig Harbor Sunrise

Glowing Mist

Granite Falls

Harvest Time

Inspiration Cove

Island Memories

Island Paradise

Island Paradise with People

La Conner

La Conner ll

La Conner Sunrise

Lady of the Lake

Ladies Aid Building

Lavender and Sunlight

Lily

Lime Kiln Lighthouse

Linger Longer

Morning Promise

Mount Baker

Mount Baker from

Deception Pass Bridge

Mount Hood

Mount Rainier

Mount Rainier Flower Season

Morning Light

Multnomah Falls

Nooksack Falls

Orcas

Madrona Cove

Paulas Dahlia

Paulas Poppy

Pike Place Market

Pioneer Building

Poppies & Lavender

Poppy Fields

Puget Sound Paradise

Red Sky Over Cannon Beach

Pioneer Square

Restaurant de Roussillon

Roche Harbor II

Tide Pools

Reflections of Summer

Snowy Owl

San Juan Island Impressions

Seattle Public Market

Seattle Rain

Seattle Skyline

View From the Bridge

Snoqualmie Falls

Snow Geese

Summer Memories

Ruby Beach

Sunshine & Rain

Tulips on Parade

Tranquil Waters

Windswept Trees of Deception Pass

Winter's First Snow

Madrona Beach

Roche Harbor Resort

Stormy Skys

Snow Geese Landing

Secret Garden

Market Flowers ll

Tillicum

Sentinels

Skagit Valley Colors

Autumn on Mt Baker